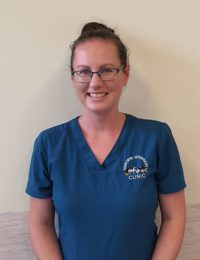 Small Animal Nurse
Kim Szatkowski started with the Gisborne Veterinary Clinic in 2007. She has brought to the clinic a great knowledge of dog handling and care that she acquired during her time at the local kennels. Kim brings a strong work ethic and excellent animal based knowledge, this keeps her in good steed for dealing with all the creatures that come through the clinic.
Kim has her Certificate IV in Animal Technology, and a Diploma of Applied Science. This allows Kim to work confidently alongside the Veterinarians within the clinic
At home, Kim has 2 children, Gizmo the maltese x Shih tzu and Pickles the galah. Over the years, her animal companions became a part of her life from the Gisborne Veterinary clinic as rescued animals.