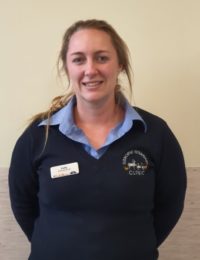 Mixed Animal Nurse
Lucy has started working at the Gisborne Veterinary Clinic in 2019 as a mixed animal nurse after working in equine emergency.
She has previously completed a Diploma in Equine Business Management but has more recently started her Certificate IV in Veterinary Nursing with a focus on equine work.
Her previous experience includes working in thoroughbred racing with both breeding and training, as well as working with Olympic Eventers and Dressage Riders. She spent 6 months alongside an Australian Olympic Eventer in England in 2016 which has been a highlight.
Lucy has grown up loving the country scene and the animals that come with it. She has a great passion for eventing and enjoys competing with her Warm-blood x Thoroughbred horse, 'Tooley'. Her best friend is Ruby the blue heeler who loves cuddles!