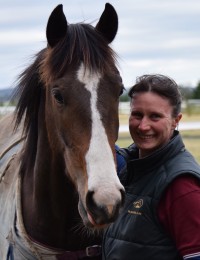 Equine Coordinator/Head Equine Nurse
Growing up in rural Victoria, Meaghan's passion for riding and competing horses, lead to the completion of Pony Club Australia's A certificate and a Bachelor of Science degree. Starting out as a veterinary nurse over 10 years ago, Meaghan saw the need to develop her knowledge and skills to enable her to assist veterinarians, nurses and owners to manage, breed and rehabilitate horses. This in turn lead to her completing work placement at two large equine hospitals in the USA, presenting at the ACVIM veterinary technicians conference in the USA and on a number of occasions at VNCA Annual Conference here in Australia.
Aside from being large animal coordinator at Gisborne Veterinary Clinic, Meaghan continues to enjoy riding and she also fits in coaching at Pony Club at a local and State level. Currently riding her mare Coco, Meaghan looks forward to bringing Cocos son Andi on in the future. Rosie her JRT manager assists with all day to day duties around the property, including the management of Billy the goat and Leeroy and Gus the sheep who assist with grass & weed management since being adopted from GVC.
Veterinary Nursing Qualifications: Certificate III Equine Nursing, Certificate Artificial Insemination (Eq), Certificate IV Veterinary Nursing, Diploma Surgical and ECC, Accredited Veterinary Nurse.