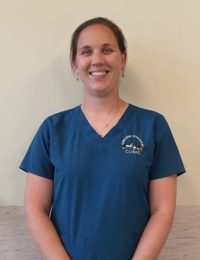 Certificate IV Veterinary Nursing
Melanie has joined the team in 2019 with a lot of experience and knowledge to share. Mel started her career as an outdoor educator which led her to a role with Zoo's Victoria. With a short period of working in horticulture, she moved onto zoo keeping with a main role as a safari guide.
She has also completed a few stints of volunteer work in Africa as a vet nurse.
She completed her Certificate IV in veterinary nursing while at the Lost Dog's Home. Starting as a kennel attendant, she grew into the role of veterinary nurse. She has particular interest in wildlife and surgical nursing.
She has always maintained a role at the Werribee Zoo because it's fun! And this role has also allowed her to lead some school tours at Melbourne Zoo
In her spare time, she is dedicated to volunteering at the CFA  as 2nd lieutenant and training coordinator
She loves to keep fits with bush walking and swimming