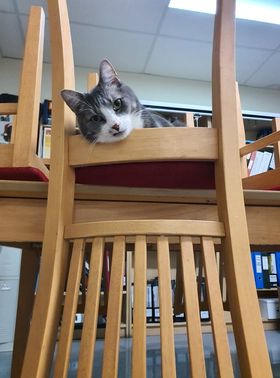 Congratulations to all the Melbourne Demon supporters out there. A well deserved win. Me? I can't say which team I support more than any other, but for some reason, I was feeling more on the Demon side rather than the doggies….
It has been a pretty straight forward week for myself. I observed a few emergencies come through the clinic, while my humans spectacularly cared for the patients.
In general practice, we had Henry the lamb in for a check up
And Fergus was in for a routine procedure.
My reception area is looking slightly different- a table has been placed just to assist with social distancing at the front counter.
Our TV is now up and running again to provide some additional entertainment while you wait for your consultation to begin. I have been enjoying watching this. Unfortunately we can't put everyone's favourite TV show on, but I can definitely assist with some information about pet care. Our current streaming is about parasites because with Spring already here, and Summer just around the corner, we might see a few more pesky critters starting to show.
Dogs, being the lucky pick of the month, will be eligible, for a limited time (and while stocks are available), to receive a free Kong Bouncer toy with their Nexgard Spectra 6 pack, starting next week.
Let our reception team know if there is anything you would like to see while in our reception area.
The rains are also arriving which may reduce my time adventuring outside. Luckily we have some under cover area which will shelter me from the water.
Hopefully our large animal vets won't go getting stuck in muddy paddocks.
Remember to take your umbrella with you for the next week while it rains, stay dry, stay safe. See you soon.
Love, Barry