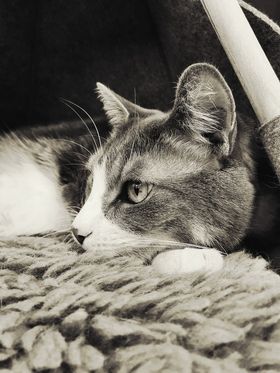 Happy Thursday everyone!
Our parasite campaign is in full swing. Don't forget to pamper your pooch with an update of their parasite treatment with a free toy! I love toys!
The reception area is beautifully decorated. I like the balloons. My humans asked me not to play too rough with them.
My humans put a pretend dog out to help people discover what a tick may feel like, if they are searching for one, but cannot see one.
Some of our patients this week included Scarlet the red heeler
We also had Dozer in for an examination of his stifle joint
Our amazing wildlife carers kindly provided an update on our koala who visited us recently. He went out and climbed "like a boss". What a champion!
A big thank you to Noah & Lil wildlife rescuers for helping him achieve this and return home!
Abbey the cat, is a family member of our own vet, Dr Candice. She came in for a complete health check.
Milo the french bulldog, got lots of attention at his visit. A routine procedure brought him in for treatment. Red is one of my favourite colours, and personally, I think the colour suits me better than Milo, but it looked ok on him too.
Another one of our wildlife visitors was this young critter. Unfortunately, he had a disagreement with another feline, where he sustained a few wounds which were not able to be fixed. A sad outcome.
But on a happier note, a small possum who also had a run in with a cat, although a small bite to the bum, will be provided with some antibiotics and pain relief, and hang with a carer until it can return home.
Now for a quick COVID update:
As we are moving to a fully vaccinated clinic against this horrible illness, all visitors will also be asked to be vaccinated if needing to enter the clinic. This policy is still being confirmed but may be introduced by the end of November. We will keep you all informed when final details and dates are confirmed.
QR code check in and the wearing of masks is required for all visitors at all times. Any person with an exemption for mask wearing is asked to wait outside the clinic and call through to reception for service. This is not only to protect clients, but also all staff.
We are also looking into our annual fundraiser for our local wildlife carers. Keep your eyes out for our event!
What a week this one has been! The best part- So many happy people! There are many ups and downs every week, but this week, maybe because humans are experiencing more sunshine. Who knows…?
Looking forward to everyone's visit soon.
Love always,
Barry.