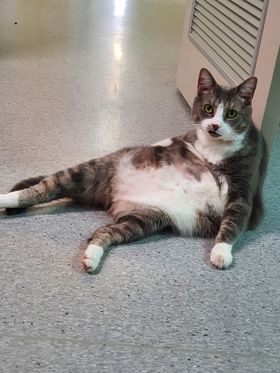 Well, I did miss another round of Barry's blog, but it has really been super busy around here, as it has been throughout the town. I watch the traffic go by from my window and enjoy the sight of many people adventuring by both car and by foot.
We have many kind people around this town, including some who supply my home with beautiful flowers.
I have also been helping with parasite prevention advice by modelling our display
My animal friends have been coming in for lots of dental procedures- baby teeth can get stuck and can potentially cause problems for the adult teeth if they don't come out soon enough.

We have also had some animals consuming products that are not exactly designed for eating. This guy decided his treats were fabulous and accidently consumed the whole bag. Yes, the bag. Not just the treats. Unfortunately, this usually means an attempt to get it out the same way it went in. Although nausea is not a pleasant feeling, the retrieval was a success!
Consuming products that do not digest can potentially cause blockages somewhere along the gastrointestinal tract and if we can get them out before they cause a problem, it is a better recovery for the animal.
Dr Dan and Dr Jane tended to a wedge tailed eagle over the weekend. X-rays were performed by our amazing vets which showed no obvious underlying injury, so he was sent to a carer who specializes in care for raptors and will be looking for release after recovery.
Many wildlife heroes are highly trained in different areas for rescue, rehabilitation and on-going care.
We often have people bring in wildlife found in the park, backyard or on the side of the road. The finders do want to try their best to care for the injured animals but it is best left to those who specialize with particular species.
Wildlife Victoria alongside the local heroes will find the best person to help
We also take in injured wildlife at the clinic to care for and we can follow up with the appropriate on-going carers. Injured wildlife can also pose a danger to humans when they try to defend themselves so please take care and call a wildlife rescuer to help.
Website: https://www.wildlifevictoria.org.au/
Phone: (03) 8400 7300
See you soon.
Love, Barry.