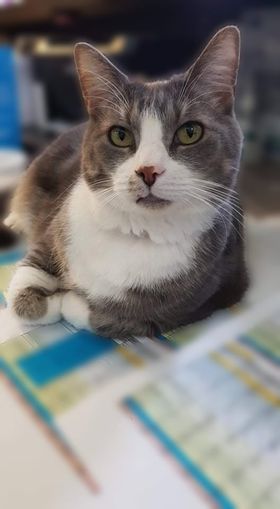 My humans would firstly like me to mention that if any family members need medications or prescription food prior to the Christmas period, it may be a good idea to either order it now, or collect some in the coming days as we will be closing the doors over the main holiday period. Some prescription foods are currently limited with stock availability but my humans can help find a temporary alternative until it is available again.
Our online booking system is well underway. Technology is so awesome! Have a look at booking in via our website!
We had some friends staying at the clinic over the past week-
Onyx the cat had a day stay with us
And Roxy the Chihuahua is having a longer stay with us to help make her more comfortable. She's a tiny little thing, half my size
Our Christmas music has been going full ball throughout different sections of the clinic. The decorations have also exploded:
Incase you missed a previous update, we will also have a gastroscope session for horses in January. Don't forget to contact my people to book in for the day.
Warmer weather is around the corner again. Make sure that if you want to exercise your dog, that it is done during the cooler parts of the day. This would be first thing in the morning or last thing at night, as long as the weather has cooled down enough. Dogs cool down differently to humans, especially short nosed dogs, and their feet can be sensitive to the hot grounds also. Luckily, cats are smarter and exercise on their own terms.
On the hot days, make sure you offer plenty of water both for drinking, and a small pool if there is a spot for it, and keep all water in the shade to help keep that cool too.
I hope to spend some time relaxing in the sunshine, but I tend to also enjoy the air-conditioning more.
Only 9 days until Christmas. I'm ready!
See you all next week.
Barry