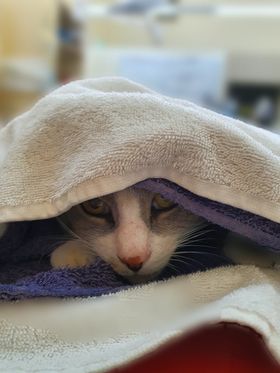 It has been another big week at the Gisborne Vet Clinic!
As you may have heard, many vet clinics around Australia are running short staffed. Unfortunately, my humans here in Gisborne have been running short staffed most days also. Lucky for us, all of you are amazing and are helping us make our way through these crazy times.
The majority of our consultations have been used by emergencies and high priority health concerns. Please try to make your routine health checks and vaccinations a few weeks in advance to get your spot on our schedule.
Pearl and I have been settling back into normal life at the clinic again. After our delicious breakfast, as you may know, I like soak up some of the morning sun.
Some of our patients this week included Mr Pickles. He is currently recovering from a tummy upset. Can you guess his breed?
He is a pekingese!
And we also had Luna in for routine procedure. Luna is a Border Collie X Poodle. After her anaesthetic, looks like she woke up with some pretty crazy bed hair!
Next week Dr Rohan and Dr Des will be taking some time out to rest. After an exceptionally busy equine breeding season, it's time for them to take a breather. We will have Dr Holly and Dr Alex working with our equine patients
We will also be closed for Australia Day on January 26th. For emergencies, please call our landline and follow the prompts to be re-directed to our staff member on call.
This coming Tuesday is our equine gastroscope day. Dr Alex is looking forward to it!

Have a lovely week everyone.
Love always,
Barry.