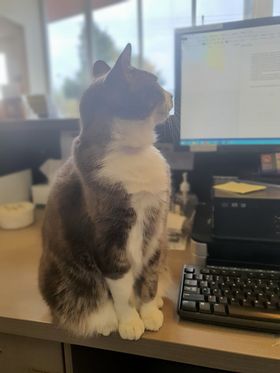 Why not start with one of our smallest and cutest visitor this week… a gorgeous little sugar glider was found by some concerned people. Luckily, no external wounds were found and it was monitored at the clinic for a short period before heading to temporary accommodation.
We had brothers, Chase and Fred in for a teeth clean
Dr Holly did a great job of sprucing up their chompers!
Nurses Bianca and Nicki helped with their anaesthetics and post-operative care.
There has been some lovely weather for sitting outside. I've made quite a few more friends over the past week. The sidewalk has been very busy. Sometimes I sit in the garden and watch the bugs
And click here for another story from Vets for Compassion with Dr Dieuwerke & Nurse Meaghan.
There amazing work has been greatly appreciated from those living up north. Nurse Meaghan was wanting to assist further by offering accommodation back down here in Victoria, but the offer was kindly declined
Dr Alex and I had some cuddles.
We have also been notified that equine cushings disease will have free blood testing available mid April. All testing will require a booking and travel costs will apply. Information will be available over our social media and enquiries are welcome through our large animal reception.
Sam the Border Collie booked in for a dental also. He was very sleepy after his anaesthetic. He also got some pretty cool superman colours for his dressing
And we currently have a pigeon awaiting to go to its new home.
2 of our rehome kittens have found a new home. Octavia and Donald (aka Donny) have found their fur-ever homes. We still have Jojo and Binx looking for the purr-fect family.
And that's a wrap for my week. See you all soon
Love always,
Barry