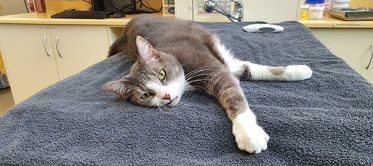 Hello, my friends!
My week was fully engulfed with naps, sleeping, finding warm places to rest and observing
Bailey, the weimaraner, came in for a routine procedure. He had his pre-medication prior to his procedure, and though I initially disturbed him, he was clearly starting to feel sleepy.
Our re-home kittens were desexed this week in preparation for their new homes. We utilize socks instead of plastic collars to protect their suture line. Octavia wasn't impressed with the new outfit, but was certainly satisfied with the attention.
It was a big day for the kittens
Our online booking system is back in action and lots of my human friends seem to like using it. Potentially, we may be able to use it for large animal appointment enquiries, but for now, it works with only our small companion animals.
We have an equine gastroscope day coming up on April 5th. Places are available by appointment.
Later in April, we have free testing for equine cushing's disease, so if your horse is showing the following symptoms, it may be worth having a chat to our reception team for examination and testing.
Curly coat
Sweating
Muscle wasting
Fat deposits
Lethargy
Increased thirst/urine production
Predisposed to infections
LAMINITIS
The coming week looks like it is cooling down a little, so make sure everyone stays nice & warm. Though also be cautious of those who like to sit too close to heaters. My humans are very cautious about our heat mats.
Have a wonderful week everyone.
See you all next week.
Love, Barry.