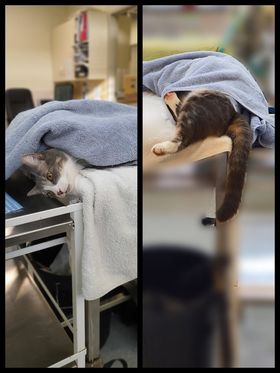 What a lovely Easter weekend it was. I had the enjoyment of my mountain holiday house. The sunshine & fresh air was amazing!
I hope you all had a wonderful long weekend with friends and family. I heard the towns have had multiple successful Easter egg hunts.
The clinic has been busy with many different cases over the past 2 weeks. I was unable to update you all last week due to a technical issue with our website. Luckily, some smart IT humans were able to fix the issue and we are again back to updating all of my friends.
Over the recent weeks, we have had many fluffy dogs visiting. This included Basil the Burnese Mountain Dog, Chase the Border Collie, and Gus the Cocker spaniel cross.
 Basil had an aural haemtoma which is like a blood blister on his ear. This is often cause by excessive shaking of the head and knocking a blood vessel within the ear, resulting in a big bubble. Unfortunately, to fix the issue, we had to give him an odd hair cut. But he is now recovering well and the hair will grow back
Chase was in for a routine procedure
 Gus also came in for a routine procedure, which turned into a bit more than was expected, but is also home now and recovering from a big day at the clinic.
My friend Scotty, the Jack Russell X, got to enjoy the warmth of our snuggly blankets.
Minx the cat was so squirmy for his photo. It took my human about 20 takes before we could get a proper photo. But my humans did say that he was a really cool cat.
Our last standing re-home kitten found her new home. Jojo is now in the process of adapting to a new environment. I'll miss that kid.
This weekend sees Anzac Day on Monday. We will remember those who fought for our country. A moment of silence.
My clinic will be closed on Monday April 25th but I will see you all again when we re-open on the Tuesday.
Have a lovely weekend my friends. See you next week.
Love, Barry.