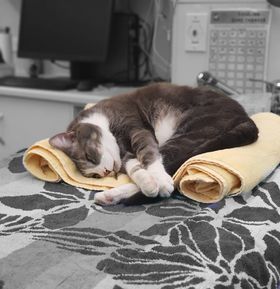 My recent weeks have seen lots of new friends visiting the clinic. My new friends are coming from far and wide, travelling from many towns over. My amazing humans (vets and nurses) have been welcoming them all with open arms to help with all their healthcare needs.
Behind the scenes, our patients have been resting comfortably after their procedures.
We have still been getting a few grass seeds stuck (mainly down ear canals).
Missy was unlucky enough to have caught a grass seed but a quick sedation by Dr Dan enabled a safe removal. She used assistance of her cage door to help keep her upright during recovery.
Toby had an incident with a fence which caused a laceration. Dr Holly was on the case and stitched him up!
Fluffy the 14 year old Pomeranian, was in for a dental procedure. Dr Russell fixed up her dental concerns and she is now recovering well.
Bob had a big day but found comfort in his big blanket.
Cute little Coco was in for a routine procedure.
We had Maze hang out with us for the day while my humans examined her sore hips. Some superb radiographic imaging gave her owners an answer.
And finally, this little guy has been in the care of our nurse Tania while he recovers from an ordeal. It may take a few more days of treatment but the humans have high hopes for a full recovery.
And that's a wrap!
Have a wonderful week, keep warm, keep your pets warm and I will see you all next week.
Love always,
Barry