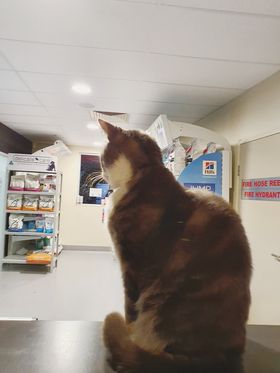 Good day, my friends!
Our week has been fun filled, and has included some of my humans heading to Romsey Early Learning Centre for their Superhero week. Nurse Tia and Receptionist Kalinda ventured out to Romsey to help teach our young humans about animals.
The days have been getting cooler and the nights even colder. I am hoping you and your pets are able to stay cozy and warm. Extra blankets, extra jumpers, the fireplace alight.
Don't forget to watch out for symptoms of arthritis in your animals. If you are unsure, my humans are pretty knowledgeable and can have a chat over the phone to answer any of your questions. Supplements can also be helpful to help with joint health. Pearl & I have 4cyte and we highly recommend it
One of our fluffiest patients of the week is Koda. At 5 months old, he was very well behaved for his visit, and put some extra smiles on for my humans.
My humans have been busy counting stock today. I helped. But I didn't taste test any products today.
We occasionally also have animals arrive at the clinic who have ventured a little too far from home and can't find their way back. Central Animal Records is one of the Australian databases which holds owner information, and they have released a product which might help your pet find their way home faster.
The SmartTag has a registered QR code which can provide any smartphone, the contact details of the animal's family. It may be worth investing in this (https://car.com.au/collections/featured-products/products/smart-tag)-
And that's all for the week. Have a lovely week, stay warm. See you in July.
Love, Barry.