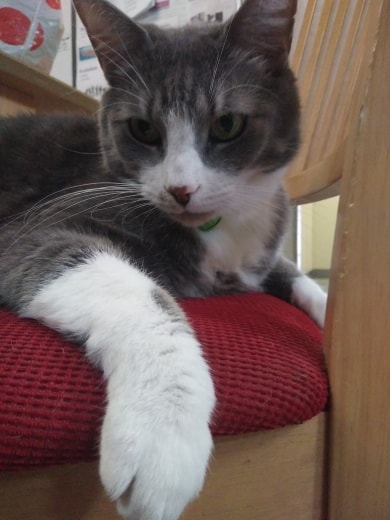 This week at the Gisborne Vet Clinic, we saw the arrival of 12 gorgeous little puppies. And yes, I realize what I am saying about dogs, but they were tiny and squeaky and cute. I would have love to have played with even just one of them!
They happened to arrive on Vet Nurse Day (Friday October 11th). So the nurses were very smiley that day. It may also have been because they got cake. Chocolate cake to be specific. They wouldn't let me try it.
Sparky on the other hand, was quite sneaky around the food and snuck up on to the kitchen table. Luckily she didn't get any cake because that would have really upset me. But she did steal a delicious salad roll from Kalinda. She spat out all the green stuff and left it on the floor. I wasn't going to clean that up. Humans can keep that stuff to themselves.
My human friend, Laura, a final year Vet Student is here hanging out again. She wants to check out the horses. She has been very helpful both in the clinic and travelling around in the car.
Pearl has been very inquisitive around the surgical procedures this week. Keeps sticky-beaking at everything that is going on.
Sometimes she just waits for the warm table.
I've been wanting to go for another adventure outside but the weather has been a little chilly. I have heard that it is expected to warm up a little next week. I am ready for some sunshine!
Until next week, keep smiling 🙂
Barry