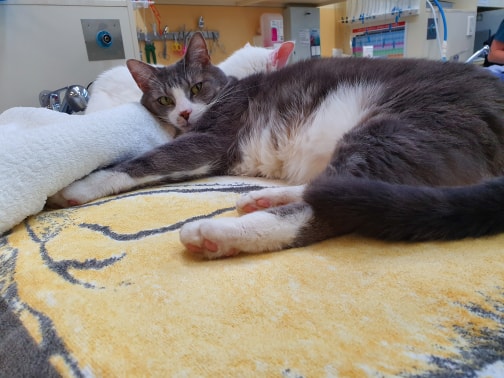 The sunshine has arrived again! I am very much looking forward to some new outdoor adventures. But in the mean time, I have been hanging out with the humans indoors. I have had the company of Vet nursing students Grace and Fiona. Pearl has been bugging them while they were trying to study. Fiona was trying to write down some information and Pearl was a major distraction.
Pearl was also trying to get Dr Russell's attention and she got nicked with the clippers.
She was even starting to try to boss me around
But I wasn't going to let her.
There has been a few extra toys floating around the clinic for the annual fundraising event, Paws In The Park. Kalinda has been doing an amazing job organizing this day. As well as a few extra goodies for myself, they are putting some gifts for the visitors.
Some nice big bags of food there. Yum, yum!
Although I might rug up in bed this Sunday, I do hope you all have a nice walk in the park. Maybe you could sneak some extra goodies into me next week, that you collect on Sunday. Maybe a new toy, or a little snack. You choose, I don't mind. Just make sure Pearl doesn't find out because she doesn't share well.
Ok, nap time for me I think. Have a good week.
Barry.