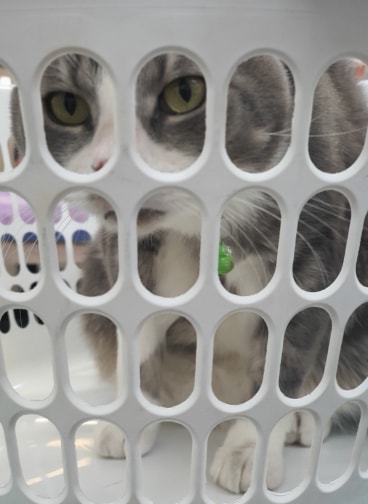 The humans asked me to send out a big thank you for attending Paws In The Park on Sunday. Apparently all the dogs behaved themselves. Since it was so good, I may put in a request for a cat's day out. I believe we would have the whole world wanting to attend that type of function.
The day raised just under $1600 on the day. The humans will be posting more pictures soon
[ngg_images source="galleries" container_ids="6″ exclusions="27,30,33,36,38,39,42,45″ display_type="photocrati-nextgen_basic_thumbnails" override_thumbnail_settings="0″ thumbnail_width="240″ thumbnail_height="160″ thumbnail_crop="1″ images_per_page="20″ number_of_columns="0″ ajax_pagination="0″ show_all_in_lightbox="0″ use_imagebrowser_effect="0″ show_slideshow_link="1″ slideshow_link_text="[Show slideshow]" order_by="sortorder" order_direction="ASC" returns="included" maximum_entity_count="500″]
Sparky had a bit of fun with Paws In The Park. She got her own T'shirt
So, enough about the dogs day. I've been wondering what my best color is lately. Feel free to let me know which you like better on me: orange or green?
I also had some time outside. The wind was about to blow me away today but enjoyed the sunshine while I could.
We also had another visit from Mark. I'm getting used to this creature. He's actually quite cuddly when you get to know him
And my week also consisted of these funny little toys I find on occasion. The humans called them cotton tips
Ok humans, go and enjoy the sun. See you all in 7 days
Barry