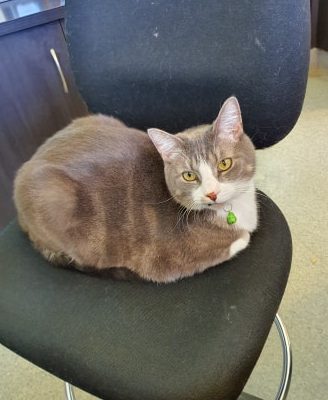 Well, I almost got blown away in that wind! Crazy stuff going on out there. Pearl opted for the safe option and stayed in bed. For some reason i think that white cat had some good sense.
This week we have a Vet Tech student, Lianne. She is super smart. Would love for her to hang out here more.
And we also had a new little little kitten come to visit. When he gets bigger, I will play with him. He's a bit small right now. He found a nice warm cosy place to hide, but I think Dr Jemma knew he was there…..
I also found a cool box to play with but when I came back after having a drink, it had been tossed out. Why do the humans get rid of the best toys?!?
Maybe I should have moved Pearl out the way to allow me to get back to my box quicker……
After the weekend we found a human had been naughty and drew a silly picture on our window. Luckily I knew how to clean it off. I had the humans on to it as soon as I saw it.
Tuesday was a bit quiet for me this week. The clinic was closed and I didn't even get to watch the big race. I will demand to watch it next time. Hope you all backed a winner.
Dr Telisha came to keep me company for a bit. Pearl started to annoy her while she was trying to study. Pearl should really take me as a mentor, people love me more.
We have had a few technical issues this week with the computers. Luckily Travis knows his way around these things and helped to fix them. It was probably Pearl pressing buttons. But I really shouldn't jump to conclusions.
That's another week for me. Hope you are enjoying your days. Stay warm and dry, and don't get blown off your feet.
Love always,
Barry