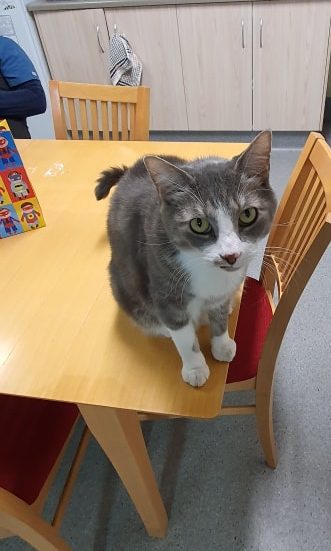 Well, well, well. Don't we all just rely on technology a lot? Seems the humans had to revert back to paper last weekend due to technical issues. At least we know that they can still write with a pen instead of typing everything. It would surely take me forever to write individual letters to all of my friends.
Have a look at what I discovered- a piece of material that allowed me to partially see myself-
That was fun for a little while.
Having young ones around can be stressful and I'm not really enjoying the company of the little kittens at the moment. Feeling stressed enough that I wee a little at random when I feel overly stressed. Luckily Lucifer has found a new home. But don't worry if you are still looking for a new furry friend. Kalinda still has a few more of those little rascals.
On another happy note, Christmas time is coming. Travis has been looking through our decorations to get organized for the big time of year.
I tried to play hide and seek. They found me….
Also went for a walk outside. It was so much fun. More and more birds are hanging out here. They're lovely to watch.
And other days I just made myself comfy & played with Pearl.
Remember to get your home prepared for this hot weather we are having. And as much as I love the bush, it is a scary place to be during fire season. Provide your furry, feathered and scaly friends with somewhere cool to go and plenty of water to drink. And don't forget to keep yourselves hydrated.
Love to you all,
Baz.