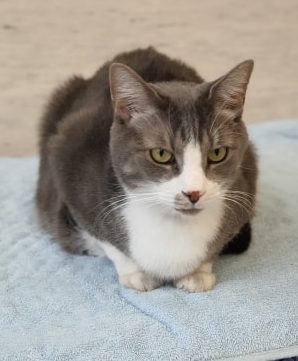 Another week has gone by and it's so much closer to Christmas. I wish I could go meet Santa. That beard of his would be so much fun to dig my claws into. Oh, I am so excited!
The humans are really getting into the mood of Christmas celebrations. Fancy tinsel, ornaments to catch off the tree, flashing lights. Such a highlight of my year. Have you seen them?
I thought I might have been blending in with the decorations at one point.
But in other news, during the week, I've had my new best buddy, Lucas, having cuddles. That's one awesome Vet in the making. He is studying up in Queensland but must have thought I was special enough for him to come to Gisborne.
After feeling a little moody last week with the humans constantly on my back about my "bad behavior", I feel that I am a little more relaxed this week. My home feels like my home again. It smells a lot like me again.
The humans have been pretty busy though. Lots of surgeries lately. All the vets have been scrubbing in for some big procedures. Dr Rohan gave me some pictures of his work. Sometimes I wondered if he actually did much because I don't see him very often. But i have been told that he is always in high demand. Almost as much as me.
Here he is actually doing some work-
Gosh, that is a big creature.
Ok, I'm off to find some more tinsel.
Catch you all next week.
Barry.