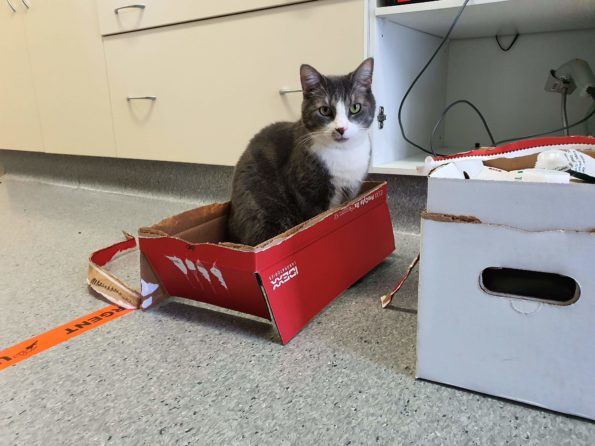 Hi everyone, You will never guess what!
This week has been so exciting ( side note * I found the best hidey hole at Dr Russell's desk!)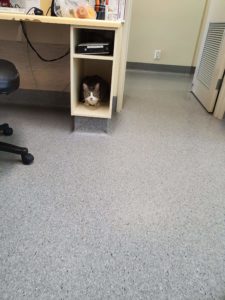 Also found this box lid in the pathology area , how cool it it!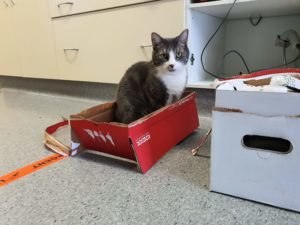 Did anyone see the baby Llama Midnight and her Mum last Friday and today?!? How cute and fluffy are they! Midnight loved all the attention and cuddles she got while they put a dressing on her foot.
It was Dr Dieuwerke's Birthday today! My family got her a big chocolate mousse cake and sang happy birthday very loudly ( I mean very beautifully hehe )
I hope you have all been keeping nice and toasty in side this week, it has been so cold!
This is Flicka she lives with Dr Telisha (you might remember her from last year when she had her hind leg removed)
We both have the right idea! Snug as a bug in a rug, Nice and toasty hehe
Pearl also found a nice warm spot (this is normally my spot in reception But I am nice and I love her so we can share.)
Some of our beautiful hospital and Clinic patients that came in this week.
We even had a very fluffy chicken in! Look how pretty it is ( I was not allowed near the pretty fluffy chicken……….. )
Post card from Sparky :
"Dear Barry and Miss Pearl,
Sorry I didn't write last week, I have been so busy managing Mum's projects at home. We got to dig in dirt! how cool in that!. I mayyy have got some on my nose hehe.
I have also being helping with the horses,
and been relaxing after a long day helping which is fun! The sunny spot inside is the best ever.
Talk to you soon, Love Sparky"
We have had a bit of wildlife come through the clinic this week too. That you lovely people have brought them down for my family to treat and look after!
Dr Dan and Mr Possum, we also had some birdies & joey's in. My family love being able to help our wildlife animals. They have lots of wildlife carers that will come and collect injured wildlife that will make a full recovery and be able to be released. They will look after them until they are strong enough to go back home.
Stay safe (and warm)
Talk to you all next week!
Love Barry & Pearl xx
PS I miss getting lots of cuddles from you all!