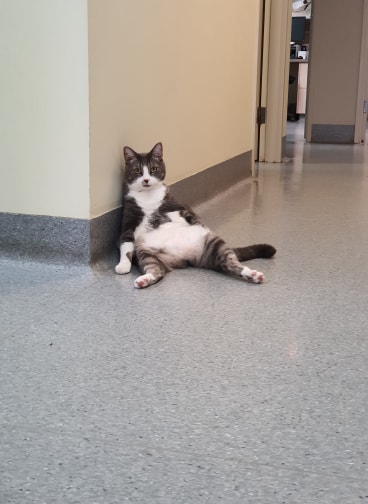 It's Thursday! My favorite time of the week. And I have a new part of the clinic to show you all.
My next part of the tour includes consult rooms, pathology, pharmacy and our library (you can never have enough books to fill your brain with knowledge).
So let's start with the pharmacy. This is my sticky label printer. The humans get quite upset when this stops working. They don't enjoy writing medication labels by hand.
In my picture below, I have on one side the centrifuge machines to spin samples of blood and urine. They spin super fast! And on my other side is the wee testing machine and Snap test machine. The snap test machine checks things like FIV and cortisol levels.
Next along is our biochemistry and heamatology machines.
Dr Dan wrote an article all about what these machines test. This article will even be presented in the local paper next week! Don't forget to pick up a copy
Then of course, I have the trusty microscope
After pathology, we have the consult rooms. I don't get to spend a lot of time in there but I often find a stray treat left behind for me.
We have lots of information displayed on the walls for you. They even have pictures to help understand what they are all about
And the humans can help provide extra sheets of info to go home with so you don't go home brain fried. And they all have a super fantastic container of liver treats
At the moment in consult 3, we are using test areas to decide what colour to revamp our walls with. Although we are doing a team vote, I would like the dark grey for my feature walls and the light colour for general walls. What do you think? You can let the humans at reception know if you are in the clinic or put your vote in the comments area below my blog.
And then one of the most exciting areas of our clinic is our library. So much information!!!
So that conclude my tour this week. Next week, we will head further out the back of the clinic.
This week did also include a few other little things, like a koala:
This one has gone on an adventure to Werribee Zoo for care
And we also had a visit from a silly canine getting into mischief with a fish hook. I've seen humans with rings in their lips, but I think those ones are there long term…
And last of all, my news this week, as Dr Russell has a few days away, I get to enjoy the company of Soxy again
Hope you all have a great week.
Love, Barry.