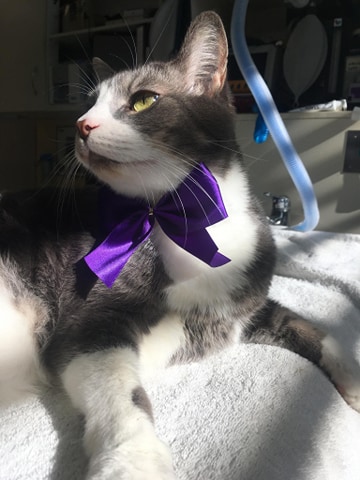 And the final part of my tour….
It's not the most exciting part of my home but it is actually where alot of action happens. We have the laundry- the machines are going every day to keep our beds clean. On colder days or when the washing piles up, we have the dryer going which can be nice to sit on.
And the humans have a shower because they get pretty filthy some days. Not my favourite room.
Then we move down to the back store room. This room contains equipment for the vets who travel around in their cars. I had a door put in especially for them to easily access here when they cleverly reverse the car into the garage
And there is extra storage for the cool Christmas decorations. I love tinsel!
And then we move to the garage. Our humans are in and out of the garage all day long! The special thing about my garage is that I have encouraged the humans to get on board with all the recycling. We are doing great at sorting our disposables materials. I have a blue bin, a green bin (the humans are calling it FOGO???), purple bins, yellow bins, mesh bag bins and soft plastic recycling! That is a lot of bins!
Check out this picture with my cardboard recycling (mesh bags) and blue bin. We also have our clothes line and that funny little box on the wall is connected to our SOLAR PANELS! I am caring for the environment 🙂
That is one colourful collection of bins!
And of course, our soft plastics-
Along side all of that gear, we have a gumboot collection and pet carrier collection-
And that concludes the tour of my home . I really hope you enjoyed it.
The rest of my week has been occupied with lots of visiting animals.
I had Dexter visiting. He had a really cool hair-do. Super curly
And Oliver had a sleep over
And the last thing I have to mention to you all, our fundraising for the bush fire relief has concluded and we are tallying up the total funds raised through February. Stay tuned into our facebook page for the total amount raised.
See you all next week.
Love,
Barry.