Hello everyone!
Another week nearly done!! And looking forward to the Long weekend. 🙂
Lots has happened!
I am very excited that my family is now allowing limited number of clients into the building. One client per fur baby in our reception area at a time. We also have special screens up in reception to protect you and our staff.
We are still asking that you all keep up the great work on pre-ordering and pre-paying for your food and medication. It makes it a lot easier for my family to help you all.
Pearl has inspecting our new screens.
She gives all paws up!
Pearl is also very happy that she now has her own Business cards! How cool are they!!!
My Human family have also started on more renovations in consult room 3, Handy man Russ was in today making a lot of noise and Mess!!
He is making a space for a computer screen to sit so my Vets can show you X-rays and Ultrasound images on them. It is going to very exciting once it is up and running!
Next step sanding and Painting!! It will be very exciting to see it all finished.
We have had a lot of very cute puppies in this week! All getting their vaccinations and health checked.
Clootie, Candy and Cookie.
It has been all smiles this week with many people booking their fur kids in for a dental scale and polish.
Tess and her Sister Matilda were very will behaved and got lots of attention from all the nurses
"Say Cheese!!"
Post card from Sparky:
"Hi Barry and Pearl! I have't got up to much this week. I did get to Grandma's place while mum went to work 🙂 I love Grandma's she spoils me!!
I hope Mum brings me back into see you and Benny again soon. Other wise I have just been having cuddles in the nice warm house 🙂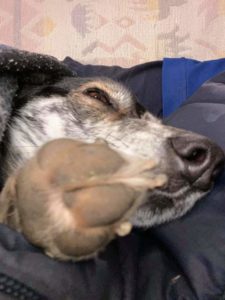 Talk to you soon, Love Sparky xx"
I hope everyone has had a lovely week like me!
For those that are worried over the long weekend though we will be closed on Monday the 8th, We will have on of our wonderful Vets on call to help for emergencies.
Stay safe!
See you all next week!!
Love Barry & Pearl
xx