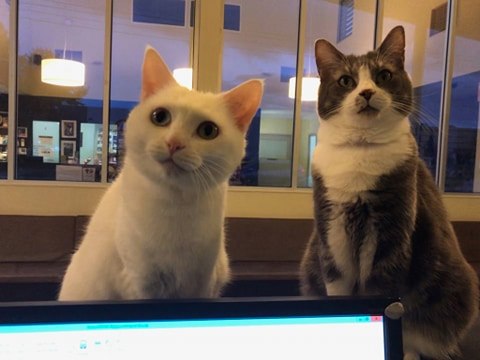 So I have heard that human restrictions are easing. Unfortunately, | do not yet have permission to allow humans back inside the clinic. The humans are still practicing social distancing and wearing PPE (personal protective equipment) until further notice. We will still be practicing with our closed door policy. This coming week should allow the humans to go visit their families. Even though you don't get to see me, I am sure this activity will boost everyone's spirits.
Over the past week, we have seen Dr Jemma attend a short patient to complete a dental. So short that Dr Jemma was down on her knees to complete the procedure. Nurse Lucy became the head stand to hold everything in the right place. Great work, girls.
We had a check up from a dog who had an eye ulcer. He had a graft completed. This interesting procedure included having a small graft placed over the ulcer to help it to heal.
We had a cat called "Sticks" who had some super cool stripes
We have had some more wildlife come through. A turtle came in and had an x-ray done.
Ben has been helping in reception
We had Penny the dog visit us. It surely brightened up the room
And a handful of puppies. In my opinion, kittens are better…
And Dr Russell asked for his photo to be taken too, so here he is-
I also looking for new enrichment ideas. I have had a small tunnel made from cardboard boxes as a trial but not sure it's my style. Feel free to shoot through some ideas.
See you all next week.
Barry.