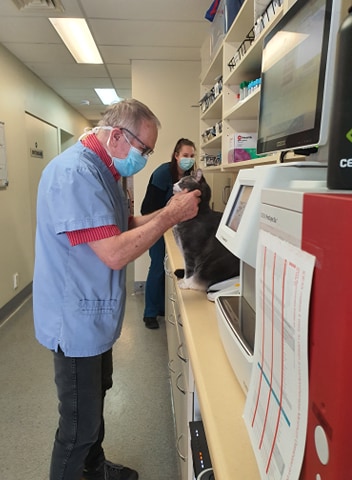 What a week it has been! I hope you are all keeping well.
I will update you all with my current policy for the clinic as it is so hard to keep up to date with all that is going on. As of this week, any humans from the restricted zones will not be allowed into the clinic. If you are from a restricted zone, we can still treat any animals for urgent medical attention, though if any cases can be delayed for a period of time (e.g. vaccinations), it is advised to remain at home and postpone your visit. For any large animals which require treatment on site ( horses, cattle, sheep etc.), in restricted zones, emergency cases can be seen. Humans will be asked to remain at a distance of at least 3 metres. We will have 2 staff to attend the patient, to hold and treat accordingly.
At the clinic, my front door will be locked at all times and we ask that you phone the clinic upon arrival. If you have an appointment, we will allow you in once the previous human has exited the building. We are limiting the amount of humans visiting to 1 person per animal. We will still have hand sanitizer for you to use during your visit. We also understand if you feel concerned about coming into the clinic and we are still able to complete any communication over the phone rather than inside the building.
All medication and food collection will be completed at our side door, after you have notified reception staff of your arrival. If you have any further questions about our current policy, please call my amazing humans.
My week has been busy with visits from lots of wildlife
Dr Dieuwerke has been busy with her dental procedures. We certainly have had some happy patients after they had some special care on their oral cavity. The humans think Pearl was hanging around because she wants a dental too. Dr Russell had a look at her mouth. Turns out, she certainly does need a dental. That will be booked in very soon!
We had some technical issues with our phones lines. I kept a close eye on this human while he fixed it.
Dr Dan and Nurse Meaghan had birthdays so we sang and had cake
And then to finish up, lets post a happy patient. This is George.
Wishing you all the happiness in the world. See you soon.
Love, Barry.