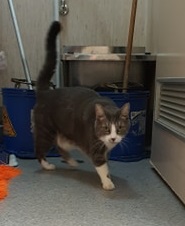 Hello World!
Adventures this week around my clinic have included lots of wildlife. Dr Telisha, Dr Dieuwerke, Dr Dan, Dr Russell have all seen a large variety of creatures this week.
My reception area is starting to look very different. Have you guessed what is happening? We have a new room! It is still all a work in progress but we are all excited about the what it may bring to our daily routine
The humans have been working very hard to get this all done. I can't wait for the finished product!
Pearl is sporting a new look as she experiments with colours-
And Ben has been comfortably sleeping which I feel is a great idea
August, which starts in a few days time, is dental month. The humans will be promoting oral care for animals and will be offering free dental checks throughout the month of August. We also have paw-some showbags ready for those visiting the small animal clinic. Oral care is super important!
The humans have been keeping a close eye on reports of the virus. Protocols may be changing once again in the clinic but I will help keep you all posted. Don't forget to keep your hands washed and sanitized, wear your mask and stay well. I love you all!
Have a great week.
Love, Barry