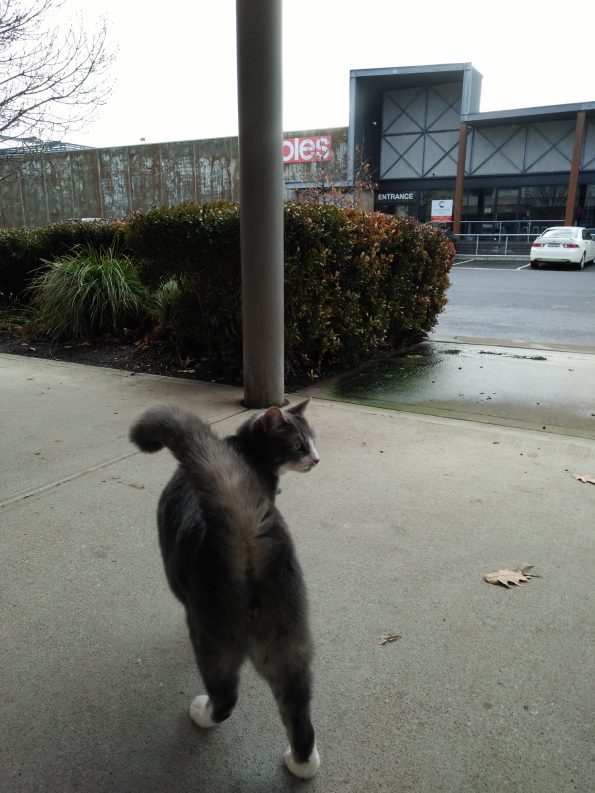 Hello humans and fellow felines!
I have had a great week! I saw the goat again. Gosh, he scared the bazookers out of me! Didn't see him as I was strolling through the clinic and he was suddenly right in front of me. I didn't think I could jump that high but my super strong legs sent me to the roof. Luckily he was super friendly. Cuddliest goat I ever did meet.
I also got to have some special cuddles with my friend Kellie. Did you ever meet Dr Kellie McKenzie? Sweetest chick. Unfortunately she is enjoying the Queensland weather too much. She forgot to send me our photos so my apologies for not loading them for you all today.
I have also been hanging out with Soxy. She hasn't been hissing at me as much this week. Here she is enjoying her holiday at our clinic.
I've been busy hanging out in the pathology area too, making sure the nurses are working hard.
I've had my daily intake of fresh air. I've peeked out at the traffic in reception. I've had super special cuddles. I've sniffed at the flowers. People have been opening doors for me at the right time. Wow, what a week it has been. Hope you have all had as good a week as I have. Will speak to you all next week with new adventures.
Baz.