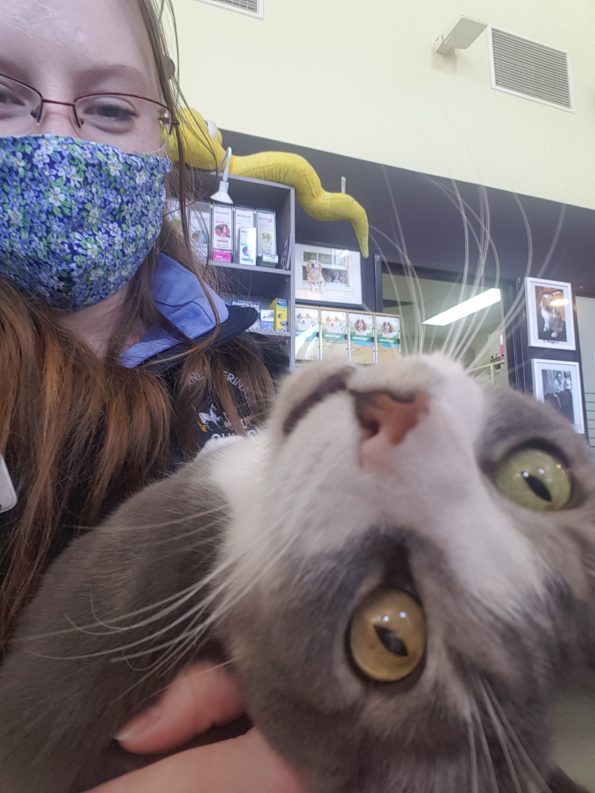 Who saw the snow? I did!
Pretty cool, wasn't it? Too bad it didn't settle here.
Luckily, we usually have somewhere warm to cuddle up in
Pearl wasn't keen on getting in
She was keeping busy watching patients
Our weekly wildlife patients were high in numbers this week. Many birds, lizards and possums. My favourite was the echidna. He was a little hard to photograph. He came in after someone found him with some broken quills. The biggest concern with these creatures are when they get too close to cars, if they break their nose, they cannot eat. This little one was very fortunate to have come out with only minor damage to the quills and will be heading home.
My humans were watching a webinar. I sat to watch it. It was very informative
Dr Dan's patient Cassie has had her sutures removed. No more artistic dressings for her. But Dr Dan said her wound has healed beautifully
Haiji has a small lump removed from her eyelid.
And Ollie came in for some x-rays
And the best new for last, a further update on our protocols.
As of this coming Monday, we will allow our doors to be unlocked during business hours. The wearing of masks and social distancing from other people is still required (not me, you can cuddle me if you like). We are also limiting the number of humans entering the clinic so if it looks like there are too many in there, please call our receptionists to check. Humans from metro areas will need to call prior to arriving at the clinic. Humans from these areas are still restricted to the outside of the clinic. If you are unsure, please call our reception staff to discuss your appointment.
It has been a wonderful week and I am looking forward to what next week will bring. See you all then.
Love, Barry.