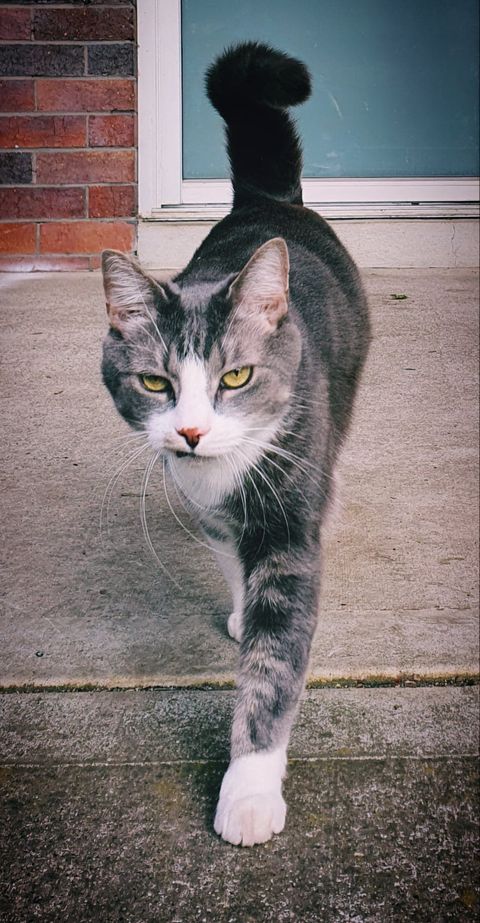 Is the world feeling a little more normal now with the human interaction? I sure am feeling a little more normal. It has been a wonderful week out in my reception area being able to say hello to some of my human friends. I am pretty sure they are super excited to see me too. Everyday I await your arrival.
[ngg src="galleries" ids="28″ display="basic_thumbnail" thumbnail_crop="0″]
The week has changed a little bit with this daylight savings business. I have to go to bed when it is still light!
It has been a fun week with Dr Dan showing his artistic skills.
Nurse Emily has commenced her nursing consults with the first day a great success! She was well booked with pentosan injections, dental check-ups and suture removals. I bet she can't wait for next Tuesday!
We had nurse Zoe's furry family come for a visit
Our surgical nursing team have been working hard every morning preparing the surgical patients
We have also had a few little baby magpie's brought into the clinic. Our vets can definitely have a look over them but if they are not injured or are not in immediate danger, their parents can look after them even after they fail their first flying lesson.
Local wildlife carers have been doing an amazing job helping out some of the little birds this season.
Nurse Tania, along with the help of Sparky, have been updating our recycling and waste management plan by updating our indoor bins to match our outside bins. Colour co-ordination is the way to go.
And we also have a further update on our clinic protocol in regards to the COVID-19 situation.
This week we have seen our front doors open to the Macedon Ranges clients, which is allowing me to see my human friends. Metro area clients still remain outside the clinic but we are still able to treat the patients. Payments for food and medication have been made over the phone prior to collection which is reducing the amount of time that humans have to spend inside the clinic. If you are not yet comfortable coming inside even though you are from the Macedon Ranges, we can still accommodate you and your animals needs by tending to you at the side door. Just call my humans upon arrival.
For those with appointments, the vet has been discussing any health concerns in the consult room, before a nurse has assisted with the handling of the patient for its full physical examination. As of next week, starting Monday October 12th, humans will be back into consults to assist with their animals examination, without the aid of a veterinary nurse unless special restraint is required. With these measures being put in place, please adhere to the general guidelines of social distancing, use of hand sanitiser and the wearing of mask apparel.
Please note: animals are not required to wear a mask
Have a wonderful week.
Love always,
Baz