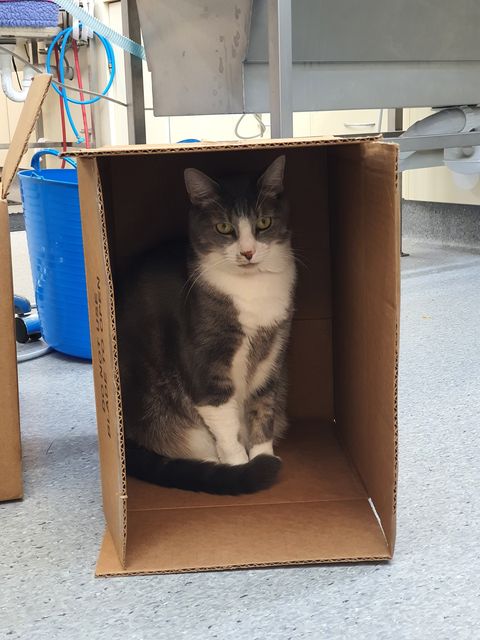 Sparky's DNA has been sent to the lab and is in process of testing to find out her background. Time to find out her ancestry and what may be giving her the physical traits she has.
We have had many guesses already. If you haven't yet sent my humans a message with your guess, there is still time. It's free to enter and you get $20 credit to spend at my clinic.
OUR NEW VET!
We have had our new human commence work this week. Meet our new vet, Holly. Holly will be working as a mixed animal vet- she will get to have adventures out in the field with horses, cattle, sheep, alpacas and more, as well as with all the small creatures and of course, amazing cats, that come though the clinic.
Weekly wildlife. This little one is suspected to have gotten clipped by a car. With minor injuries, it was sent to a carer until it's release.
We had Pepper the Doberman in for a cardiac work-up. This is where we take images of the chest through both radiographs and ultrasound. The vet can get a great visual representation on how the heart is functioning. It can also help the vets determine if medication is suitable for their condition.
Tomorrow will be a public holiday so my clinic will be closed. I have nominated my new human, Holly, to the afterhours service. If you have an animal emergency, please call the landline as normal (03) 54282805 and follow the instructions to contact the emergency service.
This will be an interesting Grand Final, a feline frenzy! Geelong Cats vs Richmond Tigers. I cannot decide who to go for!
Covid-19 update
We have, so far, been doing well with the containment of the infection in the Macedon Ranges. My humans have taken all precautions necessary throughout each phase of restriction stages, and we are all very thankful for the co-operation of humans from outside the clinic. Now that our doors have been opened to regional Victorians (please also note that it is 1 person per animal), it is still very important to maintain the social distancing rules, hand sanitizing and mask wearing to help protect each other. Any people with more than one person attending, will need to contact reception upon arrival and before entering the clinic, as we do have limited space.
Metro residents will still be on the restricted list until further notice.
Enjoy your long weekend, and good luck if your team is playing the Grand Final.
Love, Barry.