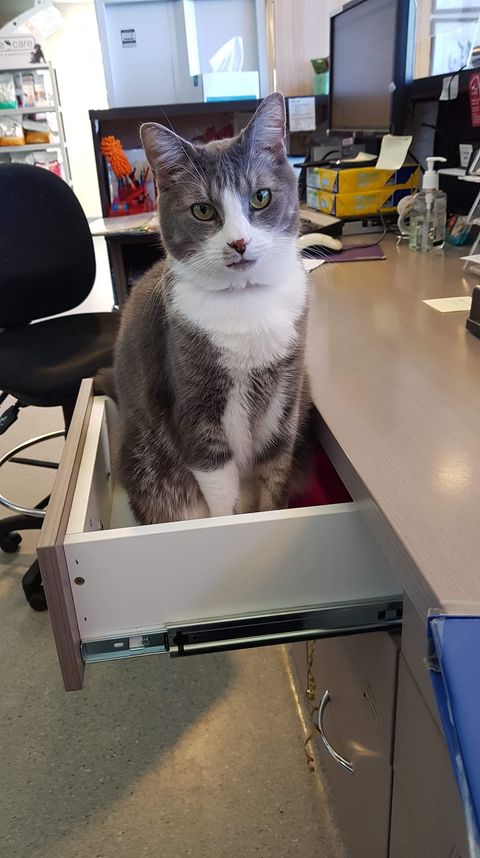 This weather sure did hit hard in our area!
I watched from the window as the rain poured down- no birdies on the window sill today.
We were very lucky that in the town centre, most of the trees stayed standing, although I did hear of a few still coming down and the water levels of the creeks rising.
Me & my humans hope you are all safe and well.
Some of my humans got stuck on their properties overnight, with one human not even being able to get home last night due to fallen trees blocking all roads in. Very thankful that everyone is safe and sound.
Dr Evie supplied some goodies to help the other humans survive through the chaotic times. They also have their counter balancing foods.
I have 3 small kittens being mischievous at the clinic. Kalinda is caring for them with our re-homing program. They are approximately 8 weeks old and if you think one of these may be the one for you, please enquire at the clinic
Our patients are receiving the best care from our vets.
Blingie has been in to monitor her heart
Pearl had a sedation to complete radiograph imaging. My humans like to make sure their patients stay nice and warm so they wrapped her up all snug.
The clinic also invested in a new piece of equipment known as a "bear hugger". This machine quietly blows warm air into a bag and helps to keep our patients warm during procedures and recovery of their procedures. Something that will be used alot over the winter period.
It has been another crazy week for the life of Barry. Wishing all the best for my friends, animals and humans. Stay safe. See you all next week.
Love, Barry.