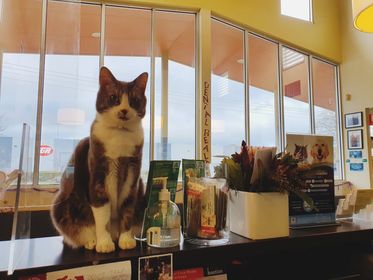 The doors are open once again. The humans are so happy to have everyone back in. So far, everyone is playing by my rules with social distancing and mask wearing so I would like to thank you all very much.
And my apologies again for being a little late this week. I am getting a little side-tracked with all the cuddling support I provide to my humans.
But otherwise, this week, I found some boxes to sit on. If only the door was open for me to have an amazing view
Pearl also found a cool box. Actually, it was my box, just after it was opened though she was intrigued about the contents
This weeks patients included Maude. She was in for a dental and her mum was so happy to have a super sparkling smile for Maude to go home with

Cindy also came in for a dental. CIndy's ears were so fluffy so she had a special headband placed to prevent them from getting wet during her dental procedure. This was a success!

Nermal is a fluffy ragdoll cat. Nermal didn't like me very much. The humans liked him though. Nermal was an addition to our dental procedures but due to some complications, he didn't get his procedure completed this week. He has been re-scheduled for next week so we will see him again.

Doc, the cockatoo, who is 55 years old, had an injury to his foot. He got a party hat to prevent him from traumatizing it any further.
My humans have recently been concerned about as food issue that has been brought to light in Victoria. I have been informed that there have been a few reports on TV about food or a toxin that may be associated with pet mice, that is causing liver failure in dogs. Symptoms associated with the illness includes increased thirst, loss of appetite, lethargy or vomiting or yellowing of the gums and around the eyes. I have also attached some of the links below in case you missed them on our Facebook page recently.
We are saddened to hear that this issue has already affected many pets in Victoria and humans who are providing pet mince to their pets, may need to look out for any abnormalities in their pets.
Wishing you all a happy and safe week.
See you all next week, I'll be waiting for your cuddles.
Love, Barry.