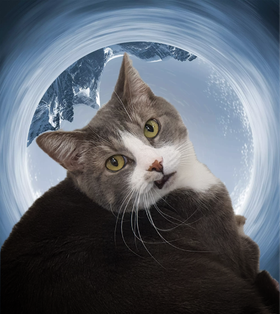 My humans have such a sensitive spot for their patients. I admit, I sometimes feel a little jealous that the patients get more attention than myself. The humans comfort their patients from the moment they come in for their procedures. A relaxed patient makes for a better recovery. So, to make sure our patients are comfortable, our nurses talk to them, cuddle them and sit with them while they wake up from anaesthetics. That means, the humans hang out in the recovery cages sometimes.
Poor Flossy had a damaged nail which was seeming quite sore. Off to the vets she went, then home again to rest. A dressing to help aid in her recovery.
This week I assisted in the pathology area, ensuring the nurses kept our machines in top order. This is a very important job. My machines give an insight into the health of patients through samples collected by my vets. We tested blood samples, poop, urine, tissue samples, skin samples… so many different samples! These humans have amazing skills!
Pearl & I are always ensuring that the heated treatment table is maintained at a good temperature.
With the days seeming a little chilly still, this feels like the best place to be. Stay warm everyone.
Love, Barry.