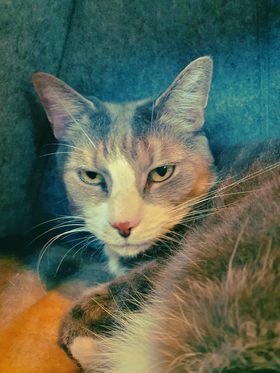 It has been a sad week for me. With our doors closing yet again, I have been so desperate to get outside to see more human life. But even when I get outside, there is still not many humans to be seen.
And then on top of that, I will have one less human to cuddle within the walls of my home. I am absolutely devastated to hear of my friend Dr Evie heading home to Scotland. We can all understand how hard it has been for the humans to not have contact with their families. Dr Evie has not been able to see her family in a long time so this venture home will enable her to do so. We wish to see you back here one day Dr Evie!
The patients this week have included Murray the whippet. He has had some neck pain that didn't seem to be resolving so he came in for some x-rays. Dr Dieuwerke was on the case!
Chloe came in for a routine procedure. She was quite wriggly while nurse Amy was trying to insert her catheter so nurses Nicki & Bianca snuggled up to her to keep her pre-occupied
I found a really amazing box this week. It was warm, comfortable and slightly elevated off the ground, in a spot where I would see lots of my human friends and patients who were coming in to visit. It was almost perfect! Maybe if I had room service here with treats delivered, I could have given it a score of 10 out of 10. But the treats never came.
I assisted Receptionist Kalinda with her work.
And I snoozed away while I waited for my humans to come back for more cuddles.
So until next week, stay safe, stay well and cuddle your fur babies.
Love, Barry.