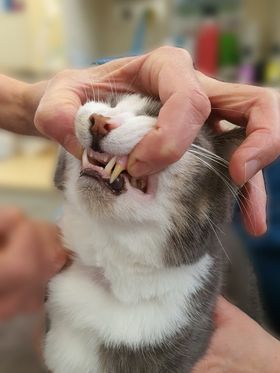 Last week, my human helper had some time off so I was unable to complete my blog. But we are back again with your update from the inside.
I was the main focus for our new client handouts. My beautiful face will appear on handouts about how to provide oral medication to your feline friends.

I also jumped on the scales for an update on my winter kilo's. It seems that I have been able to maintain my figure throughout the cooler months.
I also had a new box of goodies arrive. Inside this box, I am hiding a small portion of goodies that will appear in October. Keep your eyes peeled.
With our closed door policy, many animals have been braving their check-up without mum or dad by their side. This included Lucy the chicken
And a large family of rabbits
And then some more rabbits from another family
We had ledger come in who sustained a small wound to his leg.
We had Zeb visit us with a sore leg also. He requires further work for a complete diagnosis
Odin came in for a visit, then almost fell asleep during his consultation.
Jax the Kelpie & Frankie the cat came in for health checks. All well and healthy.
Winston came in for a skin check. His treatment is working well!
It is now Spring time! Some of our itchy patients will be coming in for skin checks and injections to help with any allergies. It may also be a good time to make sure your pets are up to date with parasite treatments!
There are so many different products including spot-on liquids and oral tablets. If the products start to confuse you, have a chat to my humans who can help you form a routine!
After some big days, and the sunshine returning, I'm going to grab some fresh air before my big nap. See you all next week.
Love always,
Barry.