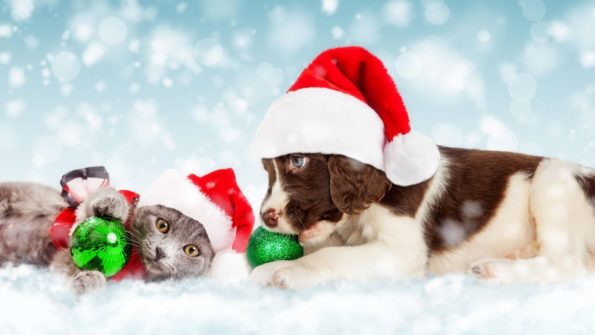 It's the time of year that brings so much joy to everybody around the world. Families gather, presents are exchanged and we enjoy some of the most amazing food!
For some families, Christmas time can also bring a busy time with the pets. Cats playing with the Christmas trees and ornaments, dogs sneaking in a few extra treats from the table and of course, the new additions too.
Although it can all seem like a bit of fun, it is also the time of year when pets can land themselves in a bit of trouble. Ornaments can sometimes cause intestinal blockages, fatty foods can cause tummy upsets, so it is important to make sure all the family stay happy and healthy throughout the festive season.
Take caution when choosing new toys for your pets at Christmas. If it is too small for your size pet, it can easily be swallowed but not always easily passed. Keep a visual on the new toys for their whereabouts and the condition they are in. Once they start to fall apart or have a piece missing, it is time to be replaced. The same advice is for the Christmas decorations. If things start to go missing from the lower branches, you may need to make alternate arrangements for the décor.
And those delicious meals made throughout the season- they sure are tasty, but be careful of what and how much your pet consumes. Indulging on Christmas snacks can pose a danger to some. Particularly things like pudding and mince pies, chocolate, grapes and some nuts can be toxic to dogs. Leftover bones from roast meats should be discarded rather than offered to the dog. Onion and onion products (often found in gravy), should be avoided. Sometimes, animals will show no side-effects after consuming small portions but with the availability of Christmas left overs, please take caution.
If you have any concerns about your pet consuming harmful substances, contact emergency veterinary services as soon as you can.
Business hours of the Gisborne Veterinary Clinic over the Christmas period are:
Christmas Eve (24th): Open until 4:00PM. Afterhours service available
Christmas Day (25th): CLOSED, no afterhours service
Boxing Day (26th): CLOSED, no afterhours service
Boxing day public holiday (28th): CLOSED, afterhours service available
New Years Eve (31st): Open, afterhours service available
New Years Day (1st): CLOSED, afterhours service available
For Emergency Veterinary Care during our closed periods:
Small animal services:
Advanced Vet Care (Kensington): (03) 9092 0440
Animal Referral Hospital (Essendon): (03) 9379 0700
Large Animal Services:
Ballarat Equine Hospital: (03) 5334 6756
Bendigo Equine Hospital: (03) 5448 5331