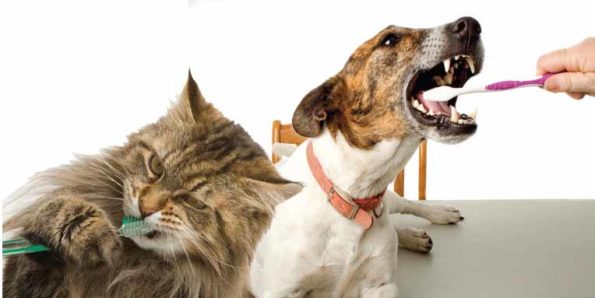 Dental consultations highlight the importance of dental health for the furry members of our family!
Did you know that 70% of cats and 80% of dogs over the age of 3 years old, are affected by dental disease?
Failure to address the problem is not only be painful for your pet but can result in bacteria being carried into the blood stream affecting other parts of the body, causing other illness such as heart and kidney disease!
A detailed visual examination will help to accurately assess your pet's dental health. Your vet can examine for plaque, tartar, loosening of teeth and bad breath (usually due to bacterial build up).
The first signs of dental disease may include foul smelling breath, excess salivation and difficulty eating. More serious effects may include loose teeth (or even teeth falling out!), abscess formation and secondary infection of other organs. Keep an eye out for other symptoms of oral problems, including:
What are the options to ensure good dental hygiene for pets?
Vet clinics can provide special dental diets which are specially formulated to promote oral and dental health. They are formulated to target plaque and tartar while also satisfying the animal's nutritional needs. The food works on mechanical action with the shape and texture of the kibble using a gentle abrasive effect to help break down the bacteria that make up plaque. It is very important that the kibble is not moistened or crushed.
Formulated chew bars are available as an effective way of supplementing the brushing of teeth. If the product contains the symbol from the Veterinary Oral Health Council (VOHC), it is approved as an effective method of assisting with oral health.
Brushing your pets teeth on a daily basis will fight against plaque build up and will minimize the development of periodontal disease. Special animal tooth pastes are available to make the experience more enjoyable.
Avoid allowing your dog to play with and chew on stones. These can often be the culprit for fractured teeth
[ngg src="galleries" ids="38″ display="basic_thumbnail" thumbnail_crop="0″]If you would like any further information on dental hygiene for your pet, you can contact the Gisborne Veterinary Clinic by phone (03) 54282805, by email reception@gisbornevets.com.au or simply drop in to see us at 12 Robertson street in Gisborne.