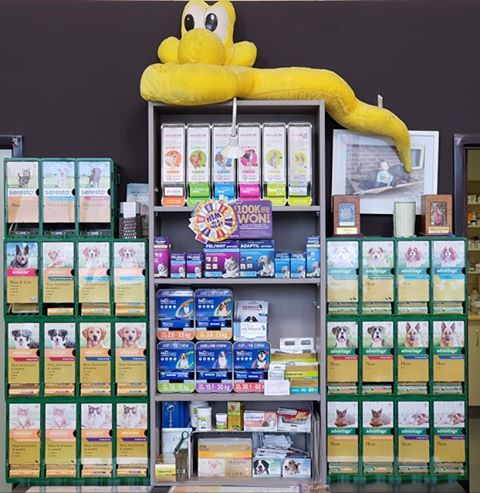 Intestinal Worms are present in your pets from birth. They live in all types of animals and some types of worms can be zoonotic, meaning it can also transfer from your pets to us (and we can also transfer worms to them).
As there will always be worms present in the gut of your pet, low numbers may not cause concern. It is once the numbers begin to rise that they can pose a health risk. This is why we like to recommend placing your pet onto a regular treatment plan to keep them at bay. As there are many different products available, have a chat to our staff at Gisborne Veterinary Clinic to help you manage your plan. The options that we have available include spot-on treatments, tablets or flavored chewable tablets
The intestinal worms that are seen in Australian pets are Roundworms, Whipworms, Hookworms and Tapeworms. Each of these poses different health concerns as their lifestyle is slightly different. Itchy bottoms, pot-bellied appearance, diarrhoea (which may or may not contain blood), low energy, changes in appetite, weight changes, dull coats are all signs that your pet may be affected by a worm burden.
Round worms can be picked up by your pet coming into contact with infected faeces carrying eggs. After your pet swallows the eggs, they hatch and turn into larvae. The larvae then spread through your pet's liver and up to his windpipe. Next they cough and then swallow the larvae. This is how they make their way to the intestine, where they can grow into adult worms. Then they lay their own eggs, which continues the cycle. These worms are round bodied and have spaghetti like appearance.
Whipworms eggs can live in an environment anywhere from a few months to years, and can be found in soil, food, or water, as well as in faeces or animal flesh. They are a small round bodied worm. Weight loss and aneamia are signs of whipworm infestations.
Hookworm eggs can be directly ingested from faecal contaminated food, picked up from the ground, transmitted via the placenta from mum prior to birth, or even milk provided from mum after birth.
Tapeworms have 2 types recognized- the flea tapeworm and the hydatid tapeworm. The flea tapeworm poses lesser concern but we still encourage using a treatment to help rid your pet of these worms. The life cycle of this worm relies on multiple hosts including fleas and your pet.
As with the flea tapeworm, the life-cycle of the hydatid tapeworm also involves an intermediate host. For tapeworms, this can include farm animals such as cattle, sheep, but can also be carried by wildlife (kangaroos, rabbits etc.)
A tapeworm infestation can transfer to people which can potentially have effect on the liver, lungs, brain and other organs so it is important to ensure that hands are washed thoroughly after handling any animal to prevent picking up worms or their eggs.
Worming schedule for puppies and kittens:
Starting from 2 weeks of age, worm every 2 weeks until 3 months of age (12 weeks)
From 3 months to 6 months, worm once a month
From 6 months of age, continue with regular treatment as per manufacturer's instructions of the chosen product.
If you would like more information on the products available and what may be most suitable for your pet, please drop in at our clinic or call us on (03) 54282805