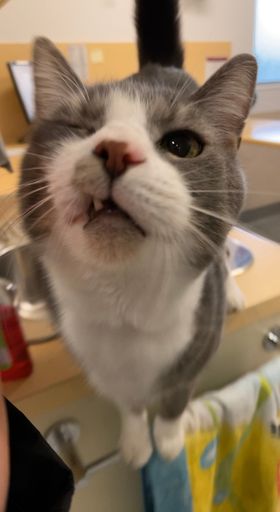 Christmas is so close! The clinic has been turned into a Christmas wonderland!

Our Paws In The Park prizes are ready to go to their new homes. What a wonderful gift they will be for some lucky furry friends.
We have been super busy getting ready for this special time of year. Making sure vaccinations are up to date and local animals are in good health before the holidays.
My humans have received a few small bundles for the festive season, which they seem to be very appreciative of. They don't share with me, so I can't really review them.
What do you think?
A large box of Cadbury Chocolate

Passionfruit tart
Gingerbread cookie
Our patients have been happy to visit us. Baby was in to help clean up her teeth, so she has a perfect smile ready for Christmas. She was a super happy, cuddly pup!
I took some time out to enjoy some sunshine (while it lasted), and I put Pearl to work with more supervising this week. She's getting the hang of it and doing a great job keeping the humans in line. They say that she talks a lot. I don't think the humans realize, this is just her keeping them in line.
Over the Christmas holiday period, the clinic will be closed. We will have staff to speak to for emergencies, but you will still need to contact us by calling our land line (03) 54282805, and follow the prompts as advised.
The clinic will be closing earlier than normal on Christmas Eve. We will be closing our doors at 4pm that day, but additional consultation hours will be available earlier in the day.
For Emergency Veterinary Care during our closed periods:
Small animal services:
Advanced Vet Care (Kensington): (03) 9092 0440
Animal Referral Hospital (Essendon): (03) 9379 0700
Large Animal Services:
Ballarat Equine Hospital: (03) 5334 6756
Bendigo Equine Hospital: (03) 5448 5331
More information about pets during the Christmas period can be found at this link:
https://gisbornevets.com.au/christmas-hazards-with-pets/
Our online booking system is now in full swing. I have found some new friends by the internet! Don't forget that you can now book your pet's next visit online. If you have an emergency, you should call for the next available appointment, but if there is no rush, jump online and look for a time that suits you. You have the option of finding your favourite vet. I love them all, no favourites for me.
I wonder what our New Year will bring this year. And I wonder what Santa will bring me.
With only a short time before the big day arrives, I hope you are all sorted for Christmas.
There is still time for a few more blogs for the year and I will see you all next week.
Lots of Love,
Barry.